Other important stuff
We are a volunteer organisation. Most of us have uni or a main job that we need to do during the day. This means we mightn't be the quickest to get your order in the post. BUT we promise to do it as quick as we can, and most the time we expect to be as fast as the bigger sellers.
At this stage - we can only ship to addresses in Australia. Sorry - dealing with export taxes is beyond us at the moment.
We also can't offer refunds or exchanges for items that you've bought unless the mistake is ours. If you do have any issues - get in touch at contact@pintofscience.com.au
Be careful to check the sizing chart below for our tees.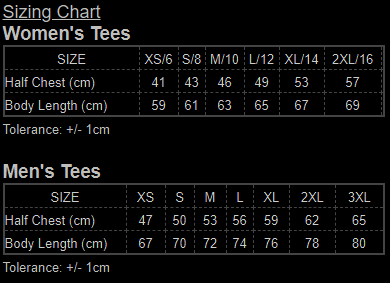 Of course - we retain the copyright for all the artwork and logos etc that we use on all our stuff including websites, social accounts, and any merch we sell or give away. We love the idea of you sharing #PintAU with your friends, and are happy to approve a request for you to share content as long as you're not claiming it to be yours, but please do not take or use our artwork for your own use. If you do want to use any of our artwork - get in touch (before using it).

We're gearing up for next year's festival in May - get excited!

OK - other things: We're a registered charity with the Australian Charities and Not-for-Profit Commission. Our ABN is: 90 110 689 353 and we're registered to charge GST.
You'll get a copy of your tax invoice with the item once it is shipped to you.